The network of motorways and expressways in Austria spans more than 2000 kilometres. To be able
to use most of them, motorists must buy a vignette for Austria online. Since the Austrian road system
is more complex than some may think, you should have all the information you need about the toll
system before driving on Austrian roads. We have collected the most important details and will
present an overview of the motorway sections.
Buy Vignette
Toll roads in Austria -
Detailed map
Since the road network in Austria has some exceptions and special regulations regarding
tolls, we have compiled all route sections on a detailed map. This way, you can get a
clear overview and find out if you need a vignette for your planned route or if you are
possibly exempt from the toll.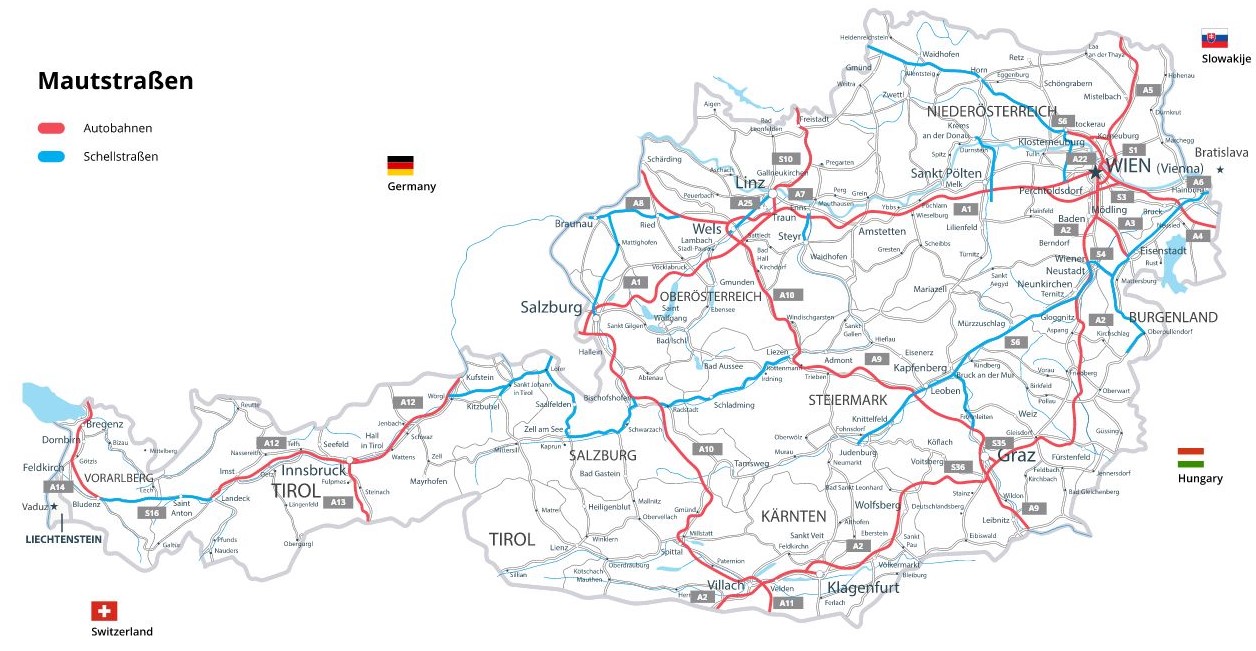 An overview of
Austria's toll roads
As mentioned above, the toll system applies to most of Austria's roads. The infrastructure company ASFINAG is not only responsible for controlling and maintaining these roads, but also collects the toll road fees.
The cost is not the same for all drivers and depends on the validity period and the type of vehicle used to cross the country. More on this later, however. We will first cover the routes on which it is the driver's responsibility to be aware of the country's vignette requirement.
Buy Vignette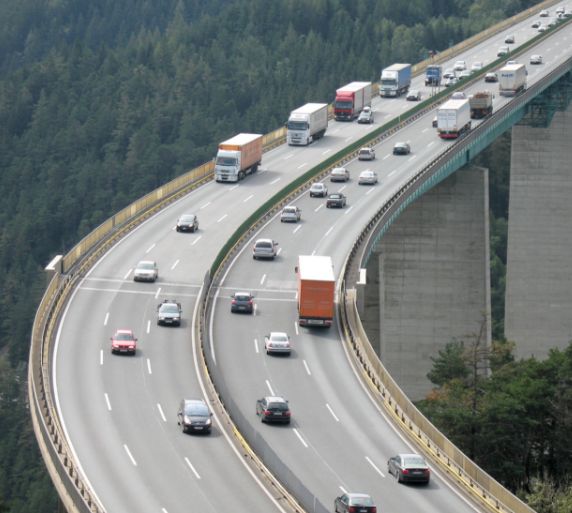 Motorways in Austria with toll sections
Tolls are compulsory on all motorways in Austria. There are only a few sections where you don't have to pay any tolls. The regulation applies not only to the motorways that run through large parts of the country but also to the smaller urban motorways, such as the A23 near Vienna.
Expressway with toll fees
The expressways in Austria collectively occupy a length of more than 460 kilometres. Since some of them are still under construction, the total length can change at any time. They are considered important links between Austria and neighbouring countries, and some of them serve as access roads to the motorways. For this reason, a fee is also charged for their use.
Toll-free sections
in Austria
There are currently four sections of roads in Austria on which no toll is charged. The Mühlkreisautobahn is now no longer one of the free sections. The following sections are toll-free:
A1 Westautobahn: Walserberg border crossing to Salzburg Nord.
A12 Inntalautobahn: border crossing Kiefersfelden to Kufstein
A14 Rheintal/Walgau: border crossing Hörbranz to Hohenems
A26 Linz Westring: still under construction

What special toll
sections are there?
Since the maintenance of certain routes involves particularly high costs, ASFINAG charges a toll for these
sections in Austria. These include certain tunnels and passes used to cross the Alps.
Tunnels
The tunnels in Austria that are considered special toll sections and require a route toll are the following:
Pass roads
A toll is charged on the following pass roads:
Toll for vehicles over 3.5 tons
The regulations mentioned above apply to passenger car drivers. For vehicles weighing more than 3.5 tons, a truck toll is due. This is calculated via a special device (GO Box), which is installed inside the vehicle.
When driving a vehicle like this, it is best to find out in advance which special features apply to the toll on which route. Since the system regarding the GO Box is structured differently than that of the vignette, there may also be exceptions and special regulations.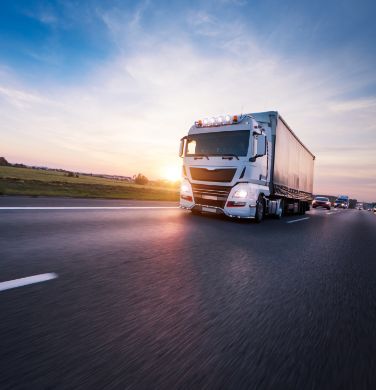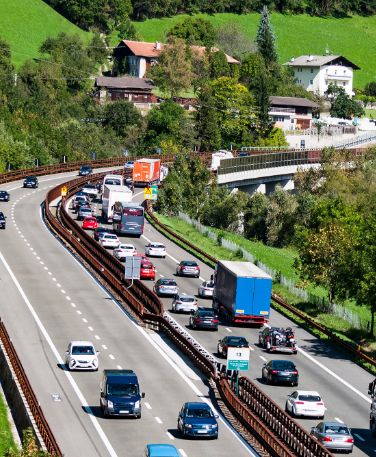 Other types of vehicles and
validity period
So far, only motor vehicles in the form of cars and trucks have been mentioned. However, there are also vehicle types, such as motorcycles, buses, or motorhomes, for which the information and regulations on the requirement to have a motorway vignette may differ.
The prices for passenger cars differ from those for larger vehicles. Further differences can also arise because the vignette for Austria is valid for different periods. There are vignettes for up to 18 days, which are sold online, but also the popular yearly vignette for holidaymakers who perhaps travel to Austria several times throughout the year.
Buy Vignette