Toll Free Roads in Austria
For many years, most sections of the motorway in Austria have required a vignette. For this reason, many drivers do
not think they can cross the country without paying tolls. However, since December 2019, there has been a change in
certain routes, which mainly benefits drivers who use Austria for transit. Certain routes, which are often used by
holidaymakers, have been toll-free since then. We will explain which places can be reached without a vignette and go
into more detail about the background of the changes.
Buy Vignette
Toll-free through
Austria: The Routes
The regulation that states that you are no longer required to have a vignette on certain routes only applies to passenger cars. Trucks with a GVW over 3.5 tons must still pay the toll and need a corresponding Go Box.
For this reason, it can be argued that the four exceptions apply mainly to holidaymakers who drive across the Austrian border, stay in the country only for a short time, and then continue their journey onwards to other countries.
A vignette is no longer required on the following routes:

Toll-free through Austria:
how can it be done?
Although the individual motorways were mentioned in the previous section, it is still not immediately obvious to motorists
which routes actually don't require the purchase of a vignette in Austria. The problem with this regulation is that only
parts of the motorway are toll-free, not the entire motorway.
If you are coming from the A8 in Germany and crossing the border in Walserberg, you can still drive from there to
Salzburg Nord without a vignette. However, if you then continue to Linz, or even as far as Vienna, you will have to pay
tolls. Although you are still on the A1, which is considered part of the Westautobahn and is toll-free, most of the route can
only be used for a fee.
This may not be clear to drivers. Therefore, it is best to use a navigation device. Devices with the latest road maps
identify all toll-free routes. All you must do is set the device to avoid toll roads and then you can drive through parts of
Austria without having to pay.
Buy Vignette
Why does a toll-free
motorway in Austria exist?
Many are probably wondering why it was decided in the first place that some routes can
be used without a vignette. We will explain the reasons for this regulation.
Relief for the municipalities
Before the toll exemption, many drivers wanted to avoid the requirement to purchase a vignette by driving on rural roads. However, this resulted in significantly more traffic forming on the roads near the municipalities. The toll bypass traffic quickly developed into a burden for residents. The new regulation on the motorways should gradually solve the problem.
Fewer pollutants and accidents
Less traffic near communities also means that pollutant emissions in these regions can be reduced. After all, due to the volume of traffic, cars often even come to a standstill.
As soon as the vehicles are distributed mainly on the country's motorways and expressways, the risk of accidents for tourists and locals will be reduced.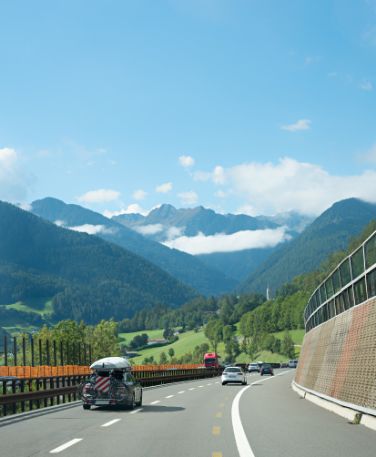 Fines on Austrian motorways:
toll-free?
If you do not have a vignette on a motorway section that requires a vignette, you must expect a fine. In most cases, inspection is carried out by cameras that take photos of vehicles travelling in these toll sections. Strictly speaking, the fine does not consist of a penalty payment, but of a substitute toll. If the Austrian camera's detect you do not have a vignette you will get a fine by mail. Be very careful around special tolsections: the Sondermautstrecken. On some of these roads it's not clear if you need an additional vignette, for example on the A 9 Pyrhn. This can cost drivers up to 120 euros. For this reason, you should always pay attention to the information regarding the Austrian vignette and be able to distinguish toll-free routes from toll routes.
The best toll-free route in Austria
The routes after the state border on the A1 and the A12 are particularly popular with German holidaymakers. On one section of the motorway, you can get to Salzburg toll-free, and on the other, you can continue towards Kufstein. Since these cities are popular destinations, many drivers take advantage of the toll-free road and visit these Austrian destinations without having to pay to drive there.
The A26 is still currently being expanded. The project contains three sections: The first one will be completed in 2024. Once construction is complete, the Linzer Autobahn will certainly be popular with drivers from abroad.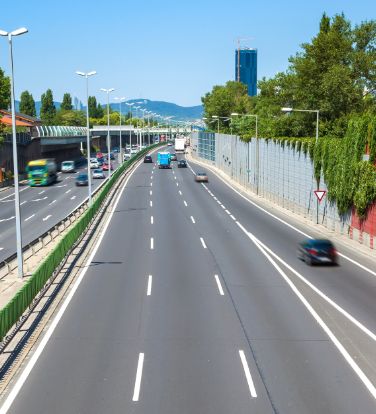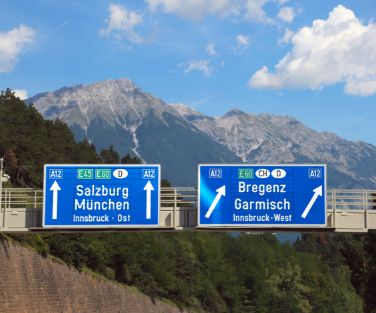 Toll-free routes in Austria for
other countries
Drivers coming from Switzerland also benefit from the new regulation on tolls. Due to these fees, many travellers previously diverted to the bypass section near Bregenz. As described above, the A14 from Hohenems towards Germany is now also free of charge for drivers from Switzerland.
Buy Vignette